ATD 3D Layout Machine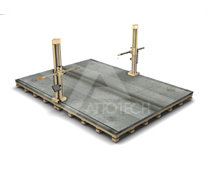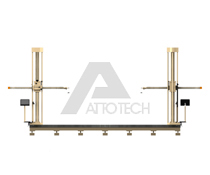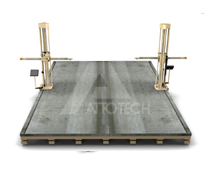 ☞ ATD Model is consisted of 2 main body and one cast iron surface plate for marking work and 3D measruing.
☞ Main body move on top surface guide rail of cast iron surface plate.
☞ ATD Model is made for very big measruing and working range industry.
☞ ATD Model is a very simple standard specification and enables to select an extra knob and a fine feed according to the purpose. You can do work very comfortable in using this layout machine.
☞ Using a special square form and material for the arm and column may prevent yawing, pitching and rolling
☞ ATD Model is used in widely industry Automobile, Heavy industry, Plant, Generate etc……
☞ We can recommend this model with manual machine.
☞ We are ready to support various systems to the specifications you needs, such as precision and work size.
☞ Marking and Measurement of Sheet Metal Components,Car Body, Dies and Fixtures etc.
☞ Reverse engineering, Digitizing & Inspection of large and heavy components.
☞ Styling and Milling Application.
☞ Clay models making, measuring of graphic data.
☞ Measurement of master-models, wooden or metallic moulds.
☞ Measurement of all other three-dimensional objects
Technical Data
| | | |
| --- | --- | --- |
| Model | Measuring Eroor (U1) | Measuring Error (U3) |
| ATD1010 | 20 + L/60 | 30 + L/30 |
| ATD1212 | 25 + L/60 | 35 + L/30 |
| ATD1513 | 30 + L/60 | 40 + L/30 |
| ATD1815 | 35 + L/50 | 45 + L/30 |
| ATD2015 | 40 + L/50 | 50 + L/30 |
| ATD2520 | 50 + L/40 | 60 + L/30 |
Degree approval standard : Based on our approval method
Column, Arm frame material : Specially Alloy Steel
Machine Drive Unit : Roller Bearing
Use when small – size precision measuring
Manual & CNC – operation
| | | | | | | | |
| --- | --- | --- | --- | --- | --- | --- | --- |
| Model | MB-Z | MB-Y | H1 | H2 | B3 | B2 | B1 |
| ATD1010 | 1000 | 1000 | 1886 | 210 | 473 | 2000 | 4667 |
| ATD1212 | 1200 | 1200 | 2086 | 210 | 473 | 2000 | 5067 |
| ATD1513 | 1500 | 1300 | 2386 | 210 | 473 | 3000 | 6267 |
| ATD1815 | 1800 | 1500 | 2686 | 210 | 473 | 3000 | 6869 |
| ATD2015 | 2000 | 1500 | 2886 | 210 | 473 | 3000 | 6867 |
| ATD2520 | 2500 | 2000 | 3386 | 210 | 523 | 4000 | 8867 |
พรีซิชั่เครื่องเค้าโครง   PRECISION LAYOUT MÁY  PRECISION LAYOUT MESIN  ម៉ាស៊ីនប្លង់យ៉ាងច្បាស់ណាស់
PRECISION LAYOUTآلة    精密レイアウトマシン 精密布局机 精密佈局機
三坐标测量机  三坐標測量機   Menyelaras Mesin Mengukur  座標測定機  ประสานงานเครื่องวัด  Phối hợp ĐO MÁY
machine တိုင်းတာခြင်း coordinate   KOORDINAT MENGUKUR MESIN
CMM  PCMM  HEXAGON  ROMER  ATTOTECH
พรีซิชั่เครื่องเค้าโครง   PRECISION LAYOUT MÁY  PRECISION LAYOUT MESIN  ម៉ាស៊ីនប្លង់យ៉ាងច្បាស់ណាស់
PRECISION LAYOUTآلة    精密レイアウトマシン 精密布局机 精密佈局機
三坐标测量机  三坐標測量機   Menyelaras Mesin Mengukur  座標測定機  ประสานงานเครื่องวัด  Phối hợp ĐO MÁY
machine တိုင်းတာခြင်း coordinate   KOORDINAT MENGUKUR MESIN
CMM  PCMM  HEXAGON  ROMER  ATTOTECH