SVM Advance Series (CNC Precision Vision Measuring Machines)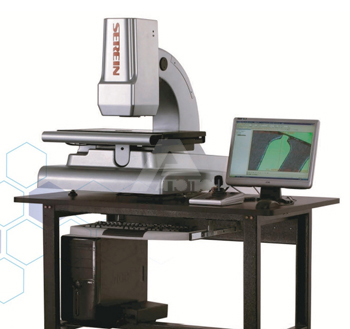 Vision Measuring Machines
Main features
Industry wide bench mark PC-DMIS VISION, with core algorithm certified by PTB.
Aluminum alloy structure is solid in structure and well suited for high precision system dimensional inspection word due to its stability.
Bionic gooseneck structure of Z axis, with guide way and accuracy of optical measurement.100% imported components, local assembly, strict inspection and calibration.
Imported, open and high resolution glass scale with high resolution, accuracy and reliability.
Ultra-precise single guide way promises long service life.
Unique laser pointer pinpoints part feature to be measured.
White LED for light source, This technique provides permanent cold light source (over 50.000hours) with very low energy consumption.
Bottom light by green LED, brightness can be enhanced and tuned.
Top light by Fresnel lens. Brightness of white ring light can be setup by partitions in the software. The change can be edited into the program.
After continuous zooming, the lens needs no precision calibration by works.
Application
Suitable for product development, 2D laser scaning, batech inspection, etc., for instance watch components, electronic connectors, metal stamping parts, springs, breadboards, etc.,
Specification and technique data