SVM II (Manual Vision Measuring Machine)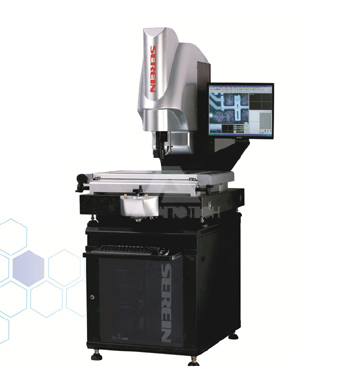 Vision Measuring Machine
Developed from Hexagon group's leading vision technology, SVM series vision measuring machine perfectly combines traditional optical and latest computer image processing technology. Simple, accurate, versatile and effective, it is capable of basic element precision measurement on point, line, circle, etc., can accommodate batch measurement, has SPC functions, and is open for constant upgrade, with SVM series vision measuring machine's powerful functions, reliable performance, continuously updated technology It is now widely applied in mechanical, electronics, house appliances, mold, optical and other precise hardware industries and can also be used for engineering development, drawing and production inspections, etc.,
Main features
Precise granite base and column to ensure stability of mechanical system
Bottom and top LED cold light source continuously adjustable to avoid part deformity due to temperature change
Hand-rotating operation, can switch into fast movement : handy front Z axis hand wheel.
User friendly measuring software, easy to learn and use
Comprehensive edge detection and outlier filtering  functions, decreasing human factor errors and enhance efficiency,
Auto zooming guidance facilitates software interface such as Auto CAD
Graphic programming enables users to conduct programming based on imported DFX file for batch inspection
Graphical and textual reporting, inspection result can be easily exported.